Monty
"If you're looking for a great pair of versatile footwear that you can take for a hike and then out for dinner, give the Ridgemont Montys a look."
- trailtopeak.com
MONTY
The Monty is an ode to the classic light hikers of the 80s. This was always one of our favorite styles and we were saddened to see this silhouette following the same path as the average middle-aged person's waistline. We decided to resurrect this classic style and put it on a much-needed health program to get its proportions back in check.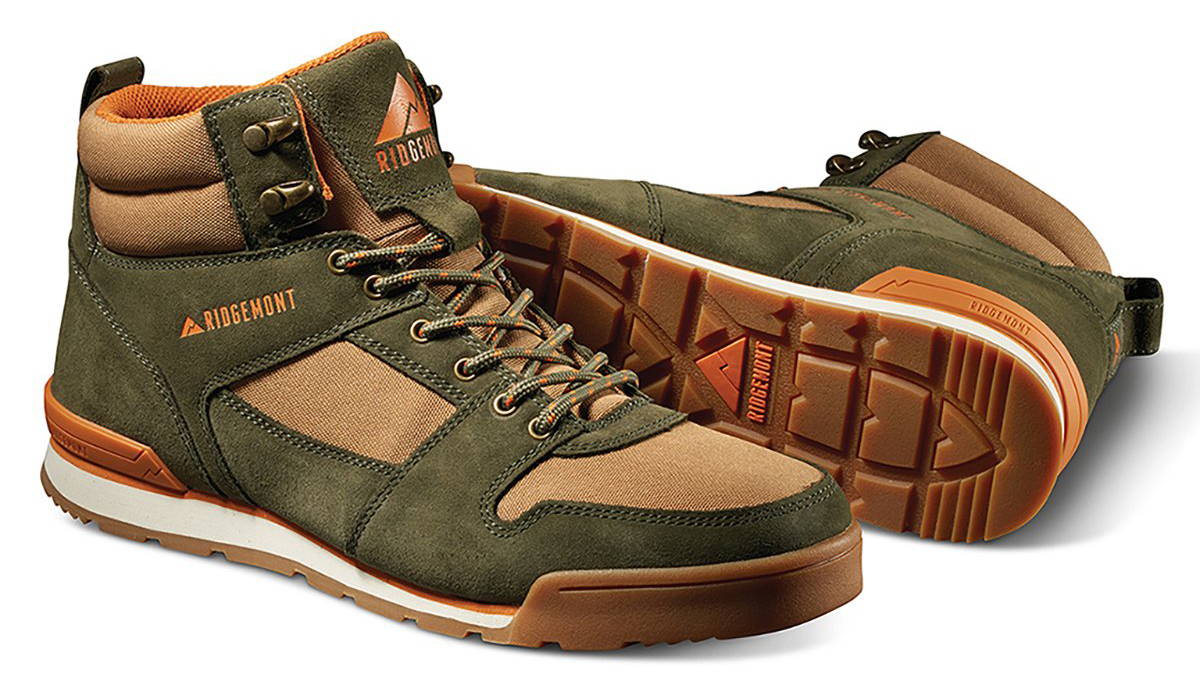 The Monty has been created with rugged durability and urban aesthetic in mind. It is a balance of classic design wrapped in a modern silhouette. This style satisfies the needs of those who want a footwear option that combines the essential technical qualities found in a hiking shoe, yet is still visually appealing to wear for off-trail adventures. Incorporating a bespoke Ridgemont half cup outsole on an exposed EVA midsole with a heel stabilizer to ensure balance and comfort and a stylish upper made from oiled suede and high-grade nylon. New for 2018 we're adding a Nubuck Leather version with a Sympatex 100% Waterproof/Breathable liner. Kraig at Gear Institute said that the Monty is versatile enough to both hike a trail and be worn to dinner with friends!' - Right on... we couldn't agree more Kraig!
WHAT THE CRITICS SAY ABOUT RIDGEMONT
"TO THAT END, THE BOOT HAS BEEN DESIGNED TO SEAMLESSLY TRANSITION FROM THE TRAIL TO TOWN, LOOKING EQUALLY AT HOME IN EITHER ENVIRONMENT. IT HAS A THROWBACK LOOK THAT HAS NEVER TRULY GONE OUT OF STYLE, WHICH IS EVIDENCED BY ITS SUCCESS ON KICKSTARTER."
"…WE SHOULD ALSO POINT OUT THAT THE OUTBACK IS STYLISH AS HELL, AND THAT'S THE WHOLE POINT: YOU'LL BE DRESSED FOR THE OCCASION WHETHER YOU'RE STANDING ON TOP OF A MOUNTAIN OR SITTING DOWN FOR TAPAS AT A FANCY RESTAURANT."
"RIDGEMONT'S OUTBACK IIWHICH DOES DOUBLE DUTY AT A SNEAKER THAT CAN BE PAIRED WITH A SPORT COAT AND A SERIOUS HIKING BOOT THAT RECEIVED HIGH MARKS FROM OUTSIDE MAGAZINE. THESE ARE GREAT FOR A DAD THAT DOESN'T WANT TO SACRIFICE STYLE FOR FUNCTION AND DOESN'T WANT TO TRAVEL WITH MORE THAN ONE PAIR OF SHOES."